FOR AN ELEVATED MODERN DENTAL CARE EXPERIENCE, DESIGNED FOR COMFORT
Your Local dentist in Fairfax, Virginia
Your Hospitable dentistry in Fairfax, VA
Looking for the best dentist in Fairfax, Virginia? Then you're at the right place. At Supernova Dental, we provide the best possible dental care for each patient that walks through our doors in Fairfax, Virginia.


Our team of smile experts has the expertise and state-of-the-art facility to provide a range of dental services, from routine cleanings to restorative and cosmetic dentistry. Regardless of the treatment you need, we're committed to helping you achieve the best possible smile.


Supernova Dental is dedicated to providing a patient-friendly experience from the moment you arrive. We understand that dental visits can be a nerve-wracking experience for some, so we make it a priority to create a calming and comforting atmosphere to help you feel at ease. We aim to ensure that you have the best possible dental experience with Supernova Dental.

why choose supernova dental
Personalized care is at the heart of our dental practice, and we're dedicated to educating our patients about their oral health, treatment needs, and options. Our team provides one-on-one attention for each patient, taking the time to know you, your preferences, and your medical history and customizing all our dental services to meet each patient's goals. Our goal is to answer all of your questions thoroughly and help you make informed decisions about your treatment options. Be a part of our thriving dental community and experience exceptional care.
Amenities For Your Comfort
We provide different comfortable amenities to improve your dental experience. Part of our amenities includes a neck pillow, a cozy blanket, and headphones. These amenities will keep you comfortable and relaxed throughout your appointment. Our practice is dedicated to serving the Fairfax area, prioritizing the highest quality of dental health.
Our world revolves around you. We take our time to understand your needs and offer you the best solutions for your dental care needs, ensuring that we address all your concerns and align with your goals to give you the beautiful smile you deserve.
Our dental office is fully equipped with industry-leading equipment and the latest dental technology, allowing us to provide you with the best modern dental care in Fairfax Virginia.
Amenities For Your Comfort
To provide you with a phenomenal dentistry experience, we provide you with a neck pillow, cozy blanket, and headphones allowing you to relax and ease the anxiety of treatment. 
Quality Service,
Without Compromise
At Supernova Dental, we pride ourselves on maintaining the highest standards of care in all aspects of treatment provided by utilizing the latest techniques and extending to our patients the utmost respect, and offering trusted treatments.
At Supernova Dental, we take pride in our selective implementation of the latest dental technology that enables us to offer improved diagnosis and care to our patients. We don't believe in gimmicky technology. Our intraoral cameras, digital radiographs, and dental cone beam computed tomography help us capture highly detailed images of your teeth so we are always on top of every aspect of your oral health. We're committed to staying at the forefront of innovation in dentistry to ensure that we can provide the best possible treatment options and the highest standard of care possible in Fairfax City.
Quality Service,
Without Compromise
At Supernova Dental we're committed to honest and ethical dentistry, and we take great pride in this approach. Our treatments are based on the principles of dentistry, and we strive to stay at the forefront of innovation in dentistry in Fairfax. We believe that our patients deserve the best dentist in Fairfax and the best possible care, and we're dedicated to providing it with honesty and integrity.
UNCOVER YOUR SIGNATURE SMILE
Experience the Magic of Your Signature Smile with Our Exceptional Team.
Let us help you achieve your perfect smile while making your Fairfax dentist appointment as comfortable, relaxing, and pain-free as possible.
MEET YOUR FAIRFAX DENTIST
For Dr. Andrew Pham dentistry has always been a passion. Through Supernova Dental, he aims to fulfill his dream of giving the people of Fairfax the smiles they deserve by providing them with quality dental care while making their experience as comfortable and painless as possible. Now, you can always look forward to your next dental appointment.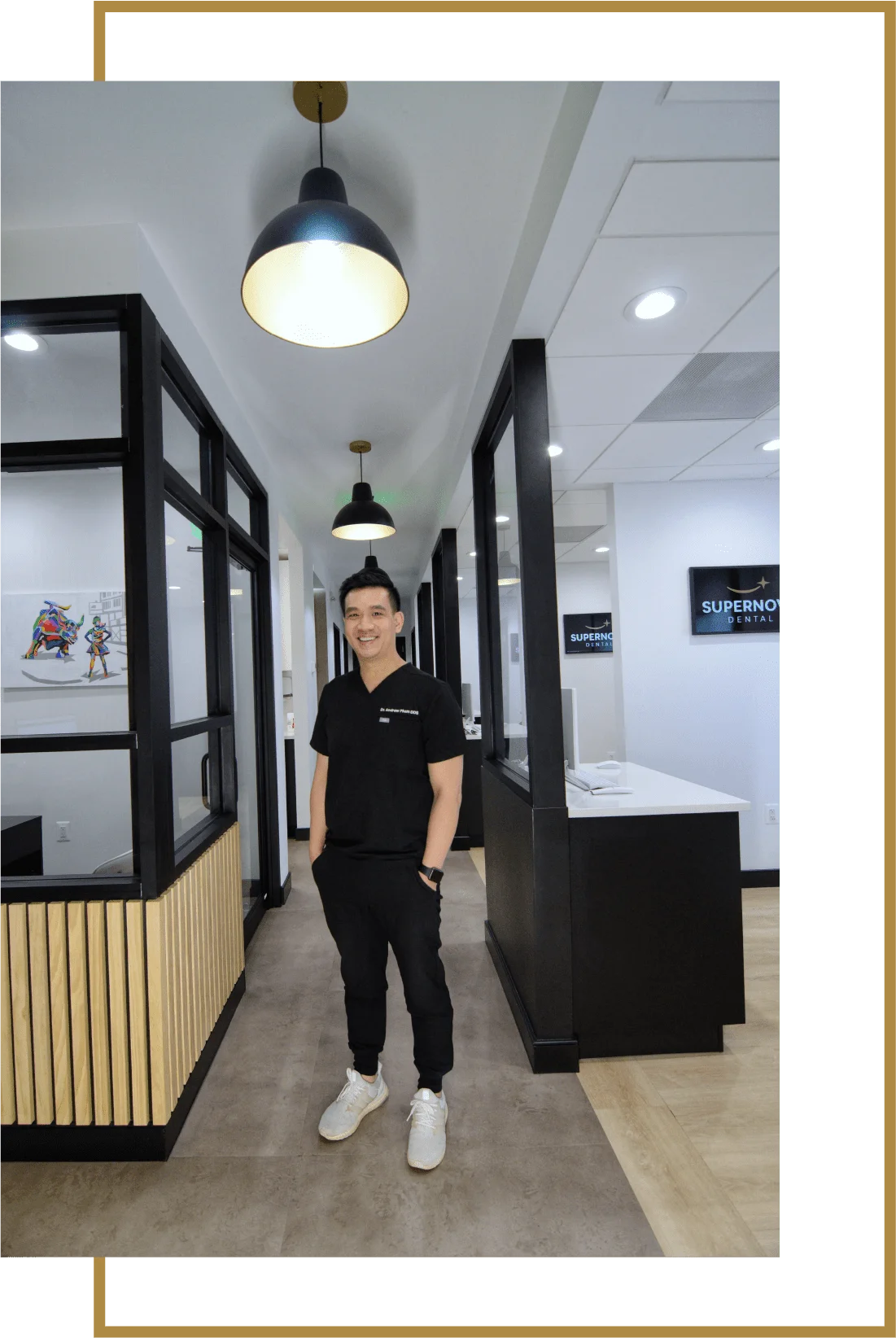 MONDAY: 8 AM – 5 PM
WEDNESDAY: 8 AM – 5 PM
FRIDAY: 8 AM – 4 PM
SATURDAY: 9 AM-2 PM
Ready to
Smile With
Radiance?

Connect with us directly by calling (703) 935-8699 or simply schedule an appointment with a few clicks.
My first dental cleaning was thorough and and left re-assured that I've found my new dentist! Dr. Pham is knowledgable and explained all of the procedures (even the routine parts of the semi-annual cleaning) and he asked questions to make sure all of my concerns were addressed. Great staff, warm welcome, and professional service. Very clean office too.
Dr Pham was very professional and attentive during my appointment. The technology in the office is top of the line. I've already recommended Dr Pham to my friends. Very pleased with my decision!
This is my second review of Supernova and Dr Pham as my family have now been patients for over a year. We continue to be incredibly thankful for such high reliability care, so close to home. Every visit is personal, informative and educational. The facilities and space are world class, modernized and comfortable. Staff is attentive, welcoming and friendly. I am hard pressed to think of anything more one could want for their oral and dental care.
Thanks Dr. Pham for teaching me so much about teeth! One of the best dentists in the area! 🙂
I recently scheduled an overdue checkup and cleaning with Dr. Pham at Supernova Dental. Upon stepping in, the clean and modern aesthetics of the office immediately caught my attention. Setting a positive tone for the entire visit. Dr. Pham's commitment to patient comfort and well-being became evident during my checkup. Throughout the process, he consistently ensured my comfort, making the experience notably more pleasant. This personalized approach showed his expertise and care. Thank you to everyone at Supernova Dental for providing me with exceptional care and for making me feel welcomed.
Dr. Pham and his team truly stood out with their exceptional care and attention throughout the entire treatment. Dr. Pham himself made it a point to check on my comfort and well-being at every step of my procedure. This level of personalized attention immediately put me at ease and made the experience much more comfortable. I wholeheartedly recommend Supernova Dental to anyone seeking top-notch dental care in a welcoming and professional environment.
Ashleigh Coleman
2023-07-27
I've been searching for a dentist that I felt comfortable with for years and years & can confidently say they exist- here at Supernova. They explained the steps of the appointment, give me a heads up when something might be uncomfortable, made sure throughout my cleaning and exam that I was comfortable and doing OK, and at no point pressured me to buy any cosmetic or more intensive procedures (yes, I've had both of those experiences elsewhere). Most importantly, they didn't talk down to me with any aspect of my appointment (big time have had this experience elsewhere). I'm so happy I've finally found my dentist I won't dread going to every 6 months!
Dr. Pham was AMAZING!!!! And his assistant Leanne (I hope I am spelling that right) so sweet!! I generally have anxiety going to the dentist and I felt at easy and comfortable. Dr.Pham walked me through everything and was very attentive! I will DEFINITELY be back 🙂
Supernova Dental is such a great find. They have it all here. The dentist is very personable, down to earth, and serious about dental health, and the overall health of his patients. The hygienist are very informative and have great bedside manner, complimenting the Dentists sentiments and his recommendations. The office itself is just sooooooo beautiful! Simple and beautiful. When you get a cleaning they give you a tote. Im so excited for my next visit. Thanks so much !
Caitlín Keller-Martin
2023-06-16
I was looking for a dentist in the area and found Dr. Pham's practice with so many 5 star reviews. He deserves them! The office is clean and modern and the doctor and staff are all super nice. Dr. Pham is very conscious of any possible discomfort and checks that his patients are okay while he's working. When I needed additional scans taken for my replacement crown, I didn't hear the voicemail until after the office was closed. They were able to text me that they had an appointment available the next day they were open, which is super convenient! I have experienced some anxiety when visiting dentists in the past, but Dr. Pham has relieved that anxiety quite a bit!