FOR AN ELEVATED MODERN DENTAL CARE EXPERIENCE, DESIGNED FOR COMFORT
Your Local dentist in Fairfax, Virginia
Your Hospitable dentistry in Fairfax, VA
Looking for the best dentist in Fairfax, Virginia? Then you're at the right place. At Supernova Dental, we provide the best possible dental care for each patient that walks through our doors in Fairfax, Virginia.


Our team of smile experts has the expertise and state-of-the-art facility to provide a range of dental services, from routine cleanings to restorative and cosmetic dentistry. Regardless of the treatment you need, we're committed to helping you achieve the best possible smile.


Supernova Dental is dedicated to providing a patient-friendly experience from the moment you arrive. We understand that dental visits can be a nerve-wracking experience for some, so we make it a priority to create a calming and comforting atmosphere to help you feel at ease. We aim to ensure that you have the best possible dental experience with Supernova Dental.

why choose supernova dental
Personalized care is at the heart of our dental practice, and we're dedicated to educating our patients about their oral health, treatment needs, and options. Our team provides one-on-one attention for each patient, taking the time to know you, your preferences, and your medical history and customizing all our dental services to meet each patient's goals. Our goal is to answer all of your questions thoroughly and help you make informed decisions about your treatment options. Be a part of our thriving dental community and experience exceptional care.
Amenities For Your Comfort
We provide different comfortable amenities to improve your dental experience. Part of our amenities includes a neck pillow, a cozy blanket, and headphones. These amenities will keep you comfortable and relaxed throughout your appointment. Our practice is dedicated to serving the Fairfax area, prioritizing the highest quality of dental health.
Our world revolves around you. We take our time to understand your needs and offer you the best solutions for your dental care needs, ensuring that we address all your concerns and align with your goals to give you the beautiful smile you deserve.
Our dental office is fully equipped with industry-leading equipment and the latest dental technology, allowing us to provide you with the best modern dental care in Fairfax Virginia.
Amenities For Your Comfort
To provide you with a phenomenal dentistry experience, we provide you with a neck pillow, cozy blanket, and headphones allowing you to relax and ease the anxiety of treatment. 
Quality Service,
Without Compromise
At Supernova Dental, we pride ourselves on maintaining the highest standards of care in all aspects of treatment provided by utilizing the latest techniques and extending to our patients the utmost respect, and offering trusted treatments.
At Supernova Dental, we take pride in our selective implementation of the latest dental technology that enables us to offer improved diagnosis and care to our patients. We don't believe in gimmicky technology. Our intraoral cameras, digital radiographs, and dental cone beam computed tomography help us capture highly detailed images of your teeth so we are always on top of every aspect of your oral health. We're committed to staying at the forefront of innovation in dentistry to ensure that we can provide the best possible treatment options and the highest standard of care possible in Fairfax City.
Quality Service,
Without Compromise
At Supernova Dental we're committed to honest and ethical dentistry, and we take great pride in this approach. Our treatments are based on the principles of dentistry, and we strive to stay at the forefront of innovation in dentistry in Fairfax. We believe that our patients deserve the best dentist in Fairfax and the best possible care, and we're dedicated to providing it with honesty and integrity.
UNCOVER YOUR SIGNATURE SMILE
Experience the Magic of Your Signature Smile with Our Exceptional Team.
Let us help you achieve your perfect smile while making your Fairfax dentist appointment as comfortable, relaxing, and pain-free as possible.
MEET YOUR FAIRFAX DENTIST
For Dr. Andrew Pham dentistry has always been a passion. Through Supernova Dental, he aims to fulfill his dream of giving the people of Fairfax the smiles they deserve by providing them with quality dental care while making their experience as comfortable and painless as possible. Now, you can always look forward to your next dental appointment.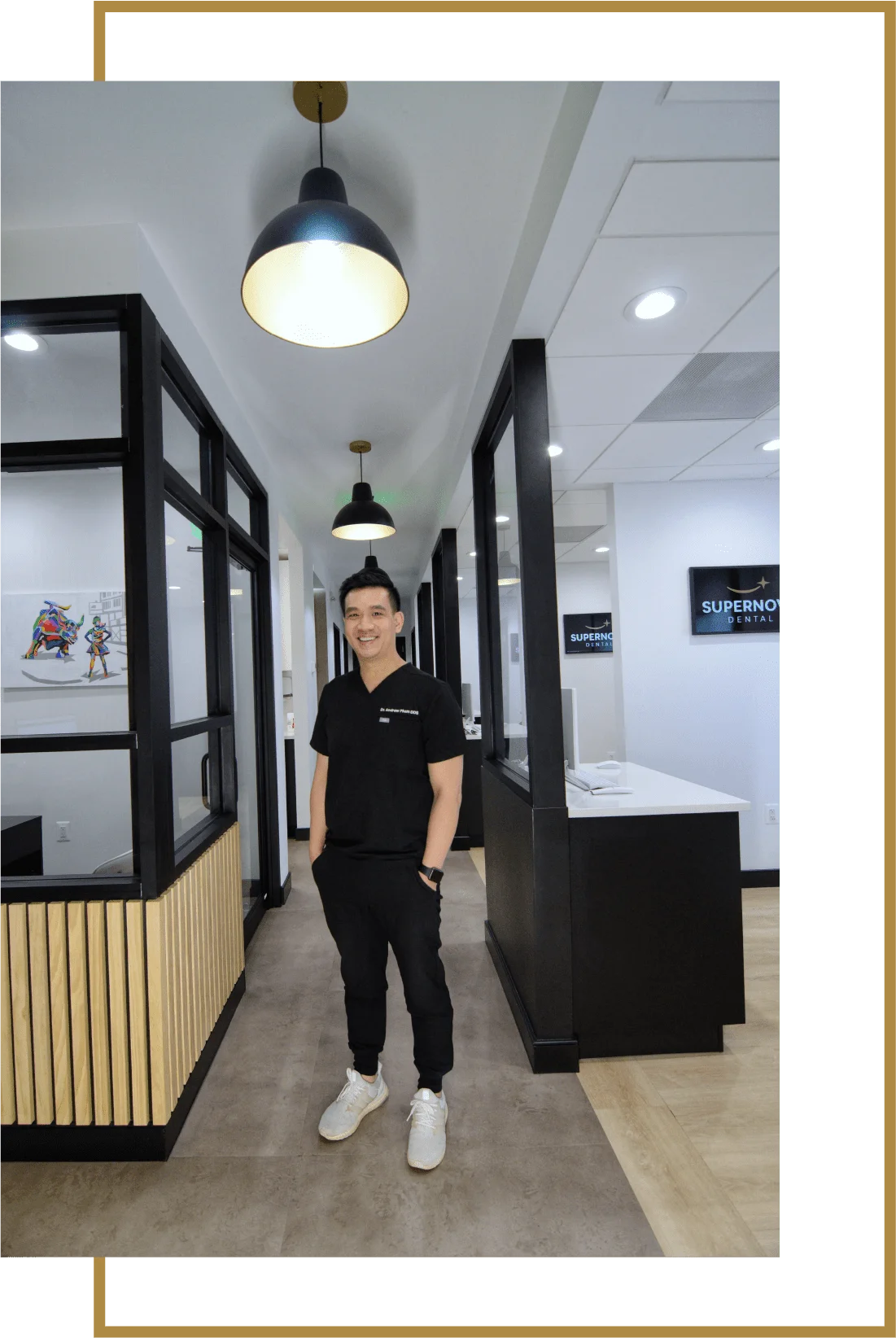 MONDAY: 8 AM – 5 PM
WEDNESDAY: 8 AM – 5 PM
FRIDAY: 8 AM – 4 PM
SATURDAY: 9 AM-2 PM
Ready to
Smile With
Radiance?

Connect with us directly by calling (703) 935-8699 or simply schedule an appointment with a few clicks.
I recently had a cleaning done by Dr. Andrew and his team, and it was a great experience. They made me feel like part of their family, and their skilled approach left me with a big, bright smile. I would definitely recommend them!
I recently had my teeth cleaned by Dr. Pham at Supernova Dental and it was a great experience. The staff was friendly and professional, the clinic was clean and modern, and the service was top-notch. Easily the best experience of dentists in the area!🦷
Excellent dentist and clinic is very comfortable too.
Dr. Pham and Deb were professional, gentle and patient for my first visit with this new practice. Dr. Pham even took the time to explain how to floss around my previous dental work for maximum benefit. He didn't try to sell me services I didn't need and was conservative in his advice for future needs. I highly recommend this practice.
Dr. Pham at Supernova Dental is my go-to dentist for an amazing teeth cleaning experience. The friendly team, thorough cleaning, and expert care made my visit outstanding. Highly recommended for patients seeking exceptional dental practice!
I had a positive teeth whitening experience at Supernova Dental. Their attentive service and expertise made the process quick and painless.
Exceptional dental care and great service.
TheGreatest ShowStopper
2023-04-12
Been seeing Dr Pham for more than half a year and he helped me diagnose the issue that my previous dentist failed to and treated me with professionalism. Their office is super clean and all the staff are welcoming and helpful.
I was searching for dentists in Fairfax VA when I came across Supernova Dental. I decided to give them a try, and I'm so glad I did! From the moment I walked in, the welcoming staff and warm atmosphere made me feel right at home. The skilled doctor and hygienist provided exceptional treatment and made the whole experience feel like I was part of their family. I highly recommend Supernova Dental to anyone looking for quality dental care in Fairfax.